POST ART ACTION!
    ALGERIA, WHO'S NEXT?
LE PAVILLION ALGERIEN FLOTTE DANS LES RUES DE L'ALGERIE!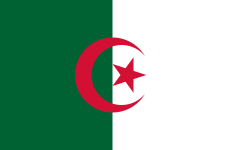 ARTISTES: LE PEUPLE ALGERIEN

 FEATURED ARTISTS: THE ALGERIANS

 PERFORMANCE/HAPPENING: SILMIYA, OCCUPY THE STREETS!
 VOUS ETES ALGERIEN(NE) ou pas!
 A VENISE OU AILLEURS ARBOREZ VOTRE FANION! VOTRE PAVILLION 
 En solidarité avec:
 Tous ceux qui se battent pour l'expression libre
 Les talents et artistes non officiels!
 les jeunes qui ont fait des manifestations contre le 5eme mandat en Algérie une véritable performance artistique!
 La rue a montré leurs photographies, leurs vidéos, leurs danses, leurs discours. 
 L'art a débordé et nous déborde, c'est bien!