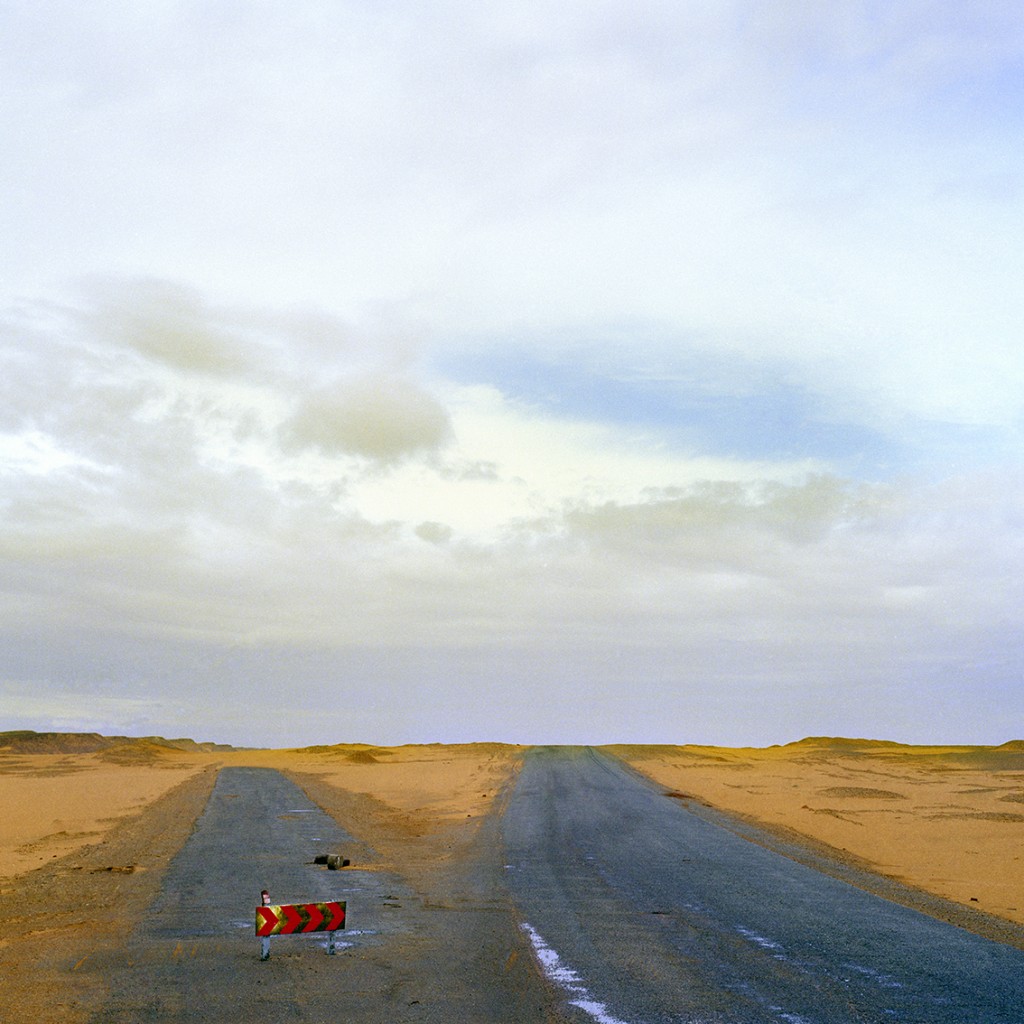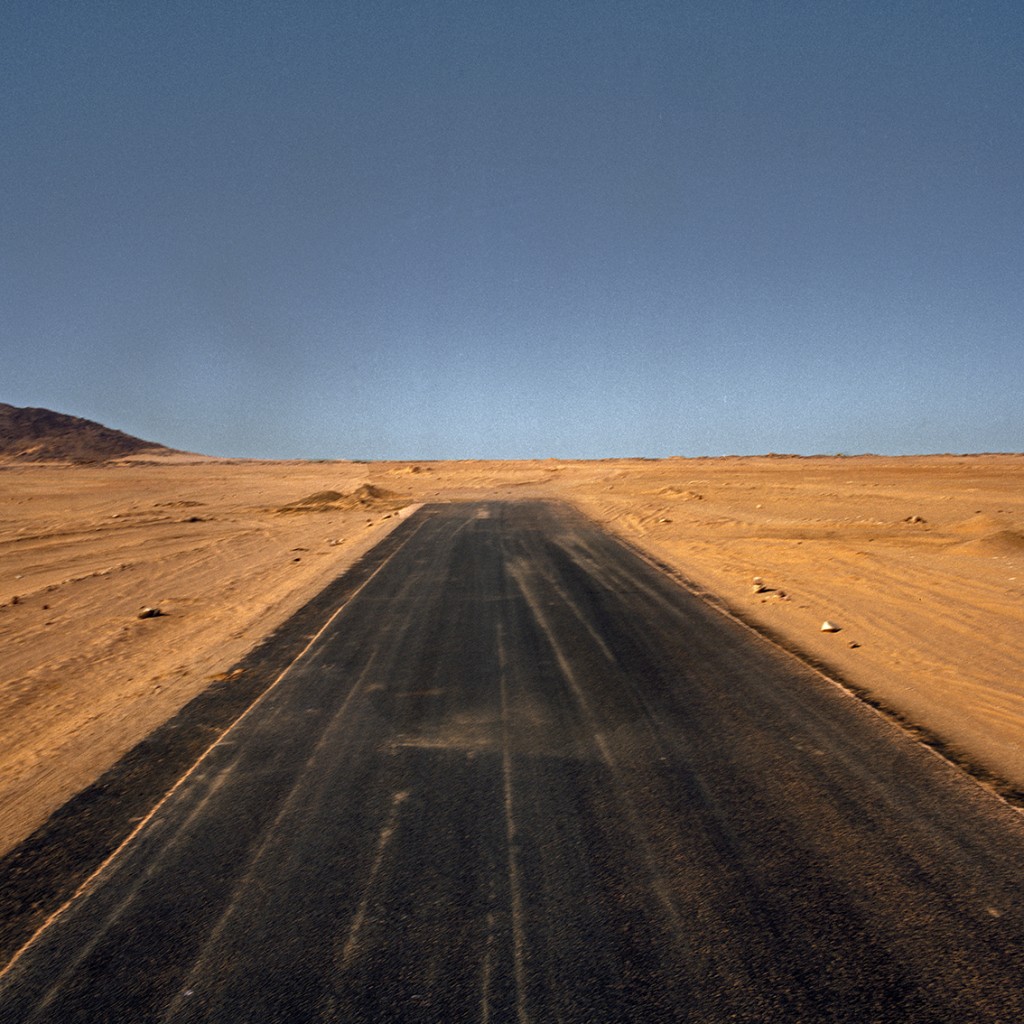 Copyrights: Bruno Hadjih, Terra Incognita Photographie argentique 80x80cm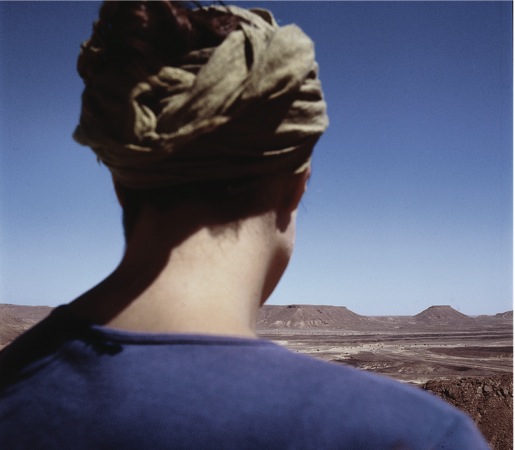 Copyrights: BRUNO HADJIH, Nous n'irons pas nous promener 
Bruno Hadjih est né en Algérie. Après des études de sociologie à Paris, il fréquente l'école de cinéma de Paris VIII.
Le reportage photographique l'avait attiré dans un premier temps. Nourri à la photographie humaniste américaine d'Eugéne Smith et Robert Franck, il s'intéressa aux fractures civilisationnelles du monde musulman. Durant 15 années, il a travaillé sur le soufisme. Des publications et des expositions ont eu lieu en France et à l'étranger. Parallèlement au soufisme, il a travaillé sur la jeunesse algérienne confrontée à la guerre civile dans leur pays ( Dans l'ombre chaude Algérienne). Il a obtenu la Villa Médicis Hors les Murs pour ce travail et un livre est édité aux éditions Alternatives.
Ses derniers travaux portent sur l'espace saharien que l'on présente comme immuable. Avant d'être une géographie, le désert est d'abord une idée. Ce constat lui a dicté sa démarche. Comme la photographie en avait fait un mausolé, c'est par la photographie qu'il réhabilite ces espaces. Composé de quatre séries de 25 photographies, chacune traite un thème traversant ces lieux en devenir: « Nous n'irons pas nous promener », « Terra incognito », « Portrait Fractal »
Expositions:  
Centro Andaluz De Arte Contemporaneo, Séville, Espagne  –  Musée D'art Moderne De Copenhague, Danemark –  Centre D'art Contemporain, La Centrale Electrique, Bruxelles –  Biennale De Bamako – Centre D'art Contemporain Cccb  Barcelone –  Museum Of The African Diaspora, « Moad », San Francisco – Musée D'art Moderne, Herzilya, Tel-Aviv –  Mama, Musée D'art Moderne D'Alger –  Institut Français D'alger – Institut Français De Fez – Centre G.Pompidou Galerie Bpi. Palais De Tokyo –  Bibliothèque Nationale Paris –  Institut Du Monde Arabe Paris – Visa Pour L'image Perpignan – Center For Visual Art,  Metropolitan State University Of Denver, USA
ACQUISITIONS: MUSEES, INSTITUTIONS ET PARTICULIERS:
2008, « Regards des photographes arabes contemporains », Musée national d'art moderne et contemporain d'Alger (Mama),  May 18 – September 23, 2007, « Lens on Life : From Bamako to San Francisco », San Francisco / Museum of the African Diaspora (MoAD) 
  15 December 2006 – 11 March 2007, « Another World » – Bamako 2005, De Elektriciteitscentrale (La Centrale Electrique), European Center for Contemporary Art, Sint Katelijneplein 
  Octobre 2006 – janvier 2007, Bamako'05, Barcelona / Centre de Cultura Contemporània
 Juin- Aôut 2007, « Rites and Rituals » (Group exhibition), Herzliya Museum of Contemporary Art
  Septembre – novembre 2006, « Un autre monde », une sélection des 6è Rencontres africaines de la photographie de Bamako, Bibliothèque nationale de France, site François-Mitterrand
  20 Avril- 25 de juin 2006, "19 Miradas. Fotografía Árabe Contemporánea", Sevilla / Centro Andaluz de Arte Contemporáneo (CAAC)
  22 novembre 2005 – 22 janvier 2006, « Regards des photographes arabes contemporains« , Paris / Institut du Monde Arabe
  10 novembre – 10 décembre 2005, « Un autre Monde », 6è Rencontres Africaines de la Photographie de Bamako / Maison Africaine de la Photographie, Complexe de la Bibliothèque Nationale Hamdallaye, ACI
  5 juin – 11 juillet 2003, « Regards sur l'Algérie », Centre Méditerranéen de la Photographie, Centre Culturel Una Volta, Bastia 

NB: LES IMAGES SUR CE SITE SONT LA PROPRIETE COMPLETE ET INTEGRALE DES ARTISTES. LA COPIE, REPRODUCTION OU UTILISATION, QUELQUE QUELLE SOIT (ET) OU SUR QUELQUE SUPPORT QUE CE SOIT SONT  STRICTEMENT INTERDITS.
Bruno Hadjih est représenté par la galerie mamia bretesché